Skip Global navigation and goto content
No children in parked vehicles
Florida Department of Health in Volusia County Environmental Health
 

Fax

386-274-0698
 

Mailing Address

P.O. Box 9190 

Daytona Beach, FL 32120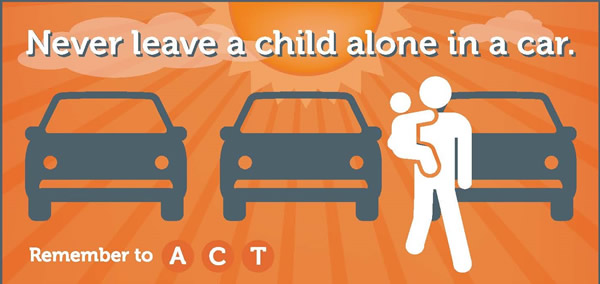 Cars can quickly heat to dangerous temperatures, even with a window cracked open. Children left in parked vehicles are especially at risk of suffering from heat stroke or dying from the heat.
When traveling with children, please remember A-C-T:
Avoid heatstroke: Never leave a child or pet in a parked car - even if the windows are cracked open.

Create reminders: Remind yourself that a child or pet is in the car by keeping a stuffed animal in the car seat. When the child or pet is buckled in, keep the stuffed animal in the front with the driver.

Take action: When leaving your car, check to be sure everyone is out of the car. Do not overlook any children who have fallen asleep in the car.
If you see a child or pet in a parked car that is not running - please call 9-1-1 immediately. 
For more information, please visit
safekids.org
.